Cool Down and Party On
at TAO Beach Las Vegas
TAO Beach at the Venetian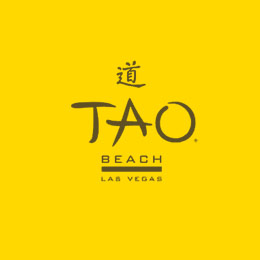 Expect nothing less than a good time at TAO Beach at the Venetian. With it's proven reputation of excellent service and electric energy, there is nothing quite like a party thrown by TAO Group. Reserve a VIP daybed or cabana and soak up the Vegas sun rays. Enjoy an ice cold freshly muddled signature mojito, or a slushy margarita poolside.
Enjoy a Tropical Escape at TAO Beach
Leave your worries behind as you enter TAO Beach from the pool deck at The Venetian. Dip in the main pool and relax in the intimate setting. The beach party starts with mellow electronic music. Enjoy a juicy burger or a crisp salad and a strawberry mojito while soaking up the rays. As the party progresses and the morning hangover fades, the music revs up and the DJ eases in more familiar tracks.
The venue begins to fill up with more party patrons, and the energy of TAO Beach is now in full swing. Party people can be found dancing on furniture and splashing with excitement in the pool. With TAO Beach one of the first pool party experiences to open in Las Vegas for the 21 and over crowd, the venue has continued to embrace it's advantage of a high-energy party in a very intimate setting.
Sprawling only 18,000 square feet and complete with 12 cabanas and approximately 40 daybeds, this venue hosts a unique experience. Reserve a daybed and soak up the rays with a couple of friends. If you have a bigger group, the cabanas are perfect to accommodate up to 20 people. Select cabanas also come with a daybed for additional seating and the opportunity to soak up the desert sun. Upgrade your experience with a VIP sunblock massage by a pool deck masseuse. Enjoy free frozen fruit and popsicles throughout the day, served by the beautiful gogo dancers.
More info about TAO Beach
18,000 square feet.
9 luxury cabanas, 3 grand cabanas and 40 VIP daybeds.
All cabanas include air condition units, misters, a private refrigerator, and a flat screen television.
Open daily 11am to 6pm.
Food is available for order over the bar, or with your private cabana server.
Beach attire is required. Sportswear prohibited.
European bathing is allowed Monday to Thursday.
TAO Beach on Instagram
Error: Cannot retrive photos from Instagram, file_get_contents() functions failed
TAO Beach on Twitter
Party Like
a Rock Star
Get Bottle Service or VIP Entry