Hyde, a Hidden Gem
on Lake Bellagio
Hyde on Lake Bellagio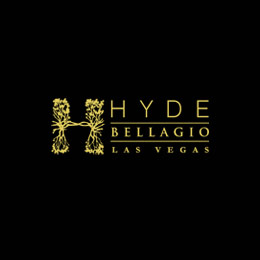 Upon arriving to the front entrance of Hyde, the only telling factor that you are at the right spot, is the crowd that awaits out front. There is no grand entrance, just a small door and a humble sign placed on the wall. Enter the main doors that lead you down a narrow hallway and into the heart of the party. Tiered VIP booths surround the room. The furniture is reminiscent of an elegant living room. It feels as if you have stumbled into an Italian villa with reclaimed woods, lavish chandeliers, Italian marbles, and rich leather couches. Books, lamps and masks decorate the space. The balcony area provides an indoor and outdoor experience. Plush couches sit up against the glass windows and give a perfect view of the Bellagio Fountains. This hidden gem is truly built for those who are in the know.
Hyde is an Intimate Experience brought to Vegas by sbe Group
Famous for spoiling the elite of Los Angeles and Hollywood, sbe brings class and exclusivity to the Las Vegas party scene. The sbe brand is known for it's posh venues, unmatched service, and sophisticated energy. No other venue in Las Vegas provides the same atmosphere and view of the city's most famous landmark, the Bellagio Fountains. As a 10,000 square foot space, Hyde is an intimate experience.
Start the Party Early at Hyde Bellagio in Las Vegas
Be swept away for a night of luxury at Hyde Bellagio. With doors that open at 5:00PM, the evening begins as a lounge-style setting. Mellow music plays in the background. The Bellagio water shows display majestic beauty. Appetizers and cocktails compliment the evening's conversation. As the night progresses the music gets a little louder. Party people flood into the space after 10:30, creating an energetic atmosphere. Now the party is in full swing of the city's most elite. A night at Hyde is unlike any other in Las Vegas.
More info about Hyde Bellagio
10,000 square feet of space.
Fashionable nightlife attire required.
40 VIP tables for bottle service guests.
Early lounge hours available.
Breathtaking view of the Bellagio Fountains.
Room occupancy at 700 people.
Lounge open 7 days per week at 5:00PM.
Hyde Bellagio on Instagram
Error: Cannot retrive photos from Instagram, file_get_contents() functions failed
Hyde Bellagio on Twitter
Party Like
a Rock Star
Get Bottle Service or VIP Entry