Lavo an Intimate
Nightclub at the Palazzo
Lavo at the Palazzo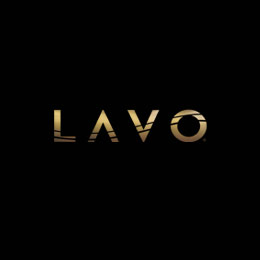 Recently voted "Best Boutique Nightclub" by the Las Vegas Weekly, Lavo boasts an intimate party environment with personalized service. Frequented by celebrities and world famous guest DJs, Lavo is a hot spot among the club goers of Las Vegas. Adorned with textured walls, large mural paintings, gold fixtures and Italian accents, Lavo boasts an intimate setting for any celebration.
How to Party at Lavo Nightclub in Las Vegas
As a 4,500 square foot boutique nightclub, the club reaches capacity at 700 people. A line flows out to the main valet. Guests eagerly wait entrance to the party upstairs. Once past the velvet ropes, guests make their way up the staircase and enter a suspended walkway lined with brass wash basins. Up another flight of stairs, enter Lavo Las Vegas.
This club was truly setup for bottle service clients, with 40 tables available in the intimate space. The dance floor is lined with booths to accommodate groups of all sizes. VIP tables surround the track bar, allowing bottle service clients the opportunity to interact with those grabbing a drink from the bar. Located at the top of the dance floor is the DJ booth.
World renowned DJs such as Vice, Eric D-Lux, EC Twins, and Dash Berlin have all performed in this intimate setting. Behind the DJ booth are the stage tables where bottle service clients can enjoy bottle service. A catwalk on the stage hosts fashion shows and performances by music artists. Dance the night away above the crowd on any of the provided platforms throughout the space.
Celebrities and Las Vegas' Elite Love Lavo Nightclub
The intimate layout of Lavo Las Vegas lures in celebrities from all ranks and industries. The personalized VIP service offered is among the top reasons that the Palazzo entrusts their biggest spenders in the care of the staff at Lavo. Top security, the most professional waitresses, and a VIP staff that caters to every little detail keep Lavo a top choice.
More info about Lavo Las Vegas
4,500 square feet.
40 VIP tables.
Fashionable nightlife attire required.
Weekly parties Tuesday-Wednesday, Friday-Sunday.
Italian restaurant of the same name located below the club.
Lavo Las Vegas on Instagram
Error: Cannot retrive photos from Instagram, file_get_contents() functions failed
Lavo Las Vegas on Twitter
Party Like
a Rock Star
Get Bottle Service or VIP Entry