Join the Party at
Wet Republic Ultra Pool
Wet Republic at MGM Grand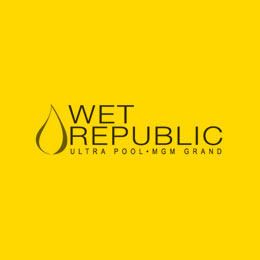 MGM Grand and Angel Management Group present an unforgettable party experience. Luxurious amenities attract the city's most beautiful people. Wet Republic recently underwent a two-part remodel. The first remodel included an upgraded DJ booth with large LED screens. The second remodel included 6 new VIP bungalows. With their world-famous DJ lineup, Wet Republic is a must-do in Vegas.
Party at Wet Republic with the Trendiest People in Las Vegas
The newly renovated Wet Republic is now more popular than ever. The world-famous venue features 6 new party bungalows. Each bungalow is includes plush furniture, misting fans, a private pool and a big screen television. New restrooms and shower facilities are now available. Large LED screens above the DJ booth add to the party experience.
A view of the performance can now be seen from every corner of the 54,000 square foot venue. VIP daybeds, tables, cabanas and bungalows are available by reservation. Lay under the Vegas sun on your daybed. Reserve a dance floor table right in front of the DJ booth to be in the middle of the action. Shaded areas are available behind the DJ booth for an intimate experience. For a larger party or more private experience, cabanas and bungalows are available.
Enjoy delicious snacks and meals off of the Wet Republic food menu. Specialty cocktails are available including the popular Skinny Mojito and Beach Body, both under 150 calories each. Cool off in either of the salt water pools on the large pool deck. Take advantage of Wet Republic's exclusive valet located right outside of the entrance. Wet Republic is home to the famous Hot 100 party. Each week during peak season, women from around the world come to Wet Republic for a chance to compete for $100,000.
The Party Continues at Wet Republic Ultra Pool
Wet Republic has been luring in the trendiest party people for 6 consecutive years. It's success can be attributed to their DJ line up and ability to offer top notch service for all guests. Renovations keep this venue looking and feeling brand new. There is no slowing down in sight for Wet Republic.
More info about Wet Republic
54,000 square feet.
10 bungalows with private pools.
Shaded seating options are available.
Open 7 days a week.
Wet Republic on Instagram
Error: Cannot retrive photos from Instagram, file_get_contents() functions failed
Wet Republic on Twitter
Party Like
a Rock Star
Get Bottle Service or VIP Entry