Luxurious Details Enhance
the Experience at Encore Beach Club
Encore Beach Club at Wynn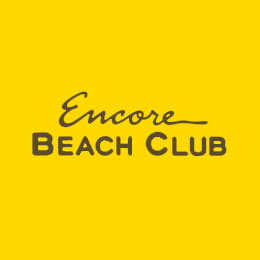 When Encore Beach Club (A.K.A. EBC) opened in 2010, daylife was transformed. Every detail throughout the club is decked in luxury. The venue offers multiple seating options to cater to a variety of needs including 26 cabanas and 8 top of the line bungalows with their own private infinity pool. The DJ rotation features an array of EDM and popular performers.
Encore Beach Club is a Beautiful Oasis on the Las Vegas Strip
Trendsetters flock to Encore Beach Club, Las Vegas' premier daytime experience. Spanning 60,000 square feet within the Encore Las Vegas, this pool set a new standard of luxury since it's opening in 2010. The venue features three tiered pools surrounded by 40-feet tall palm trees. Surrounding the club are 26 cabanas and eight 350-square-foot bungalows equipped with their own private safe, LED televisions, and refrigerators. The bungalows also feature their own private infinity pool, private bathrooms and a cooling system. Cabanas on the upper level offer a private balcony that overlooks the Las Vegas Strip. Daybeds and lily pads in and around the pool provide the perfect setting for catching some sun.
Guests can try their luck at the outdoor gaming tables that feature blackjack, craps, pai gow and roulette. The custom audio system by John Lyons Systems delivers rich, clear sound throughout the space. The DJ booth at the focal point of the venue sits below a large LED screen for a visually satisfying experience. Two main bars serve up cocktails, champagne, wine, beer and refreshing non-alcoholic beverages. Guests can expect performances by ZEDD, Redfoo of LMFAO, Diplo, Will.i.am, Lill Jon and many more.
More info about Encore Beach Club
60,000 square feet.
26 cabanas and 8 private bungalows.
Daybeds, lily pads, tables and couches are available for reservation.
Self parking and valet is available at Encore and Wynn.
Open weekly Thursday-Sunday.
World renowned DJ lineup.
The grill on site serves appetizers and entrees.
Multiple water dance platforms throughout the venue.
Encore Beach Club on Instagram
Error: Cannot retrive photos from Instagram, file_get_contents() functions failed
Encore Beach Club on Twitter
Party Like
a Rock Star
Get Bottle Service or VIP Entry